Capital is increasingly being allocated to help heavy polluters fund their costly decarbonization plans. 'Transition finance' may be the greatest economic opportunity ever in the race against climate change.
View Original Article on LatinFinance >
---
By Charles Newbery and Rodrigo Amaral
At a plant outside Montevideo, Vantem pours and presses materials into concrete-like boards. The electrified process runs at nearly room temperature, consuming only a fraction of the energy for making cement at high temperatures with fossil fuels. The panels make buildings five-times more energy efficient than their traditional counterparts. Add solar panels onto the roofs, and buildings can achieve net-zero carbon dioxide emissions and sell the excess electricity on the grid.
This lower carbon footprint has caught the attention of construction companies. To reach net-zero emissions by 2050 in the race against climate change, total emissions from buildings – cooling, heating and powering – as well as construction and materials must be slashed. Buildings may only account for 10% of energy-related emissions, but when factoring in operational and process-related emissions it made up 37% of the total in 2021, more than industry at 30% and transportation at 22%, according to the International Energy Agency.
Vantem, with backing from the Bill Gates-founded Breakthrough Energy Ventures, has sold its panels to Japanese electronics maker Panasonic for a factory in Brazil. Homes, a five-star hotel and a co-working space have been built with them in Uruguay, and an observatory for the Chilean Navy on cold and windy Cape Horn.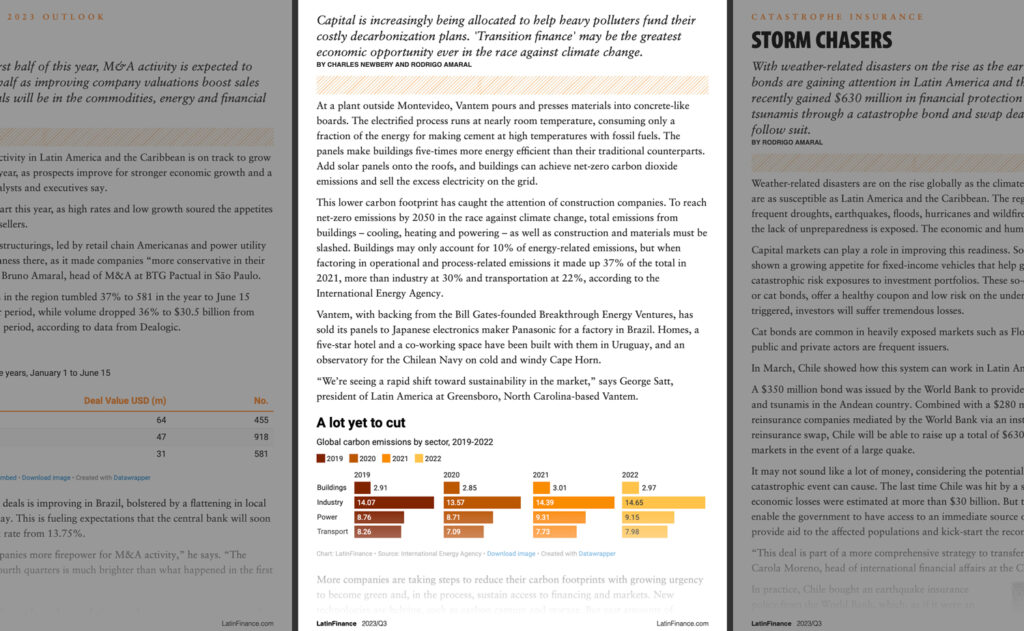 Continue reading online on Latin Finance – The Big Cleanup.
---
Originally published on July 30, 2023
read.nxtbook.com/latinfinance/magazine/2023_q3/transition_finance.html
To keep informed about latest news follow Vantem on LinkedIn and Instagram